About Zippo lifetime guarantee and ingenious advertising courses
George Grant Blaisdell was quite ordinary inventor but a brilliant marketer.
As you know, gasoline vetrozaschischennnaya lighter was invented it was not long before the foundation of the company Zippo Mfg Co.
- A patent on the Austrian lighter «Hurricane», which served as the inspiration for Mr. Zippo, was issued in 1912.
The Austrian company is mass-produced gasoline IMCO lighters out of shotgun shells back in the 1920s (in fairness it must be said that for all of its existence IMCO lighters produced even more than Zippo - more than 500 million, but that's for another time).
The improvements are made to the Blaisdell «Hurricane», are so simple that they did not think of them would be very difficult.
Zippo genius inventor was different - in advertising and in the way supply of the goods, and, of course, the famous lifetime warranty on the lighter.
Here is the famous advertising posters Zippo 1970s. They all carry the main idea: "This lighter has seen so much and still works» - «It still works today». Is it possible not to rely on a solid thing, especially if you carry it with you and use every day? Millions of customers have relied Zippo, and they were right!
And now I will reveal a little secret.
Zippo lighter can not work.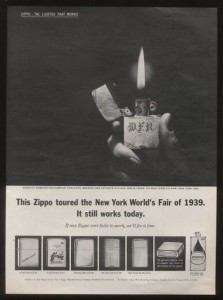 If you take the lamp of age in 3000 years, there pour oil and insert the wick, it will burn. Gasoline vapors also will burn everywhere and was a spark. Therefore Zippo will work, as long as there is at least a couple of drops of fuel and a spark. I sometimes wear a Zippo lighter in his pocket in 1947 - the oldest one that I have. I specially cleaned it, put a new flint and wick. It works. There is no difference, will it be 1933 or 2008, :)
Offer the customer a lifetime warranty on his lighter - it was a very bold move for 1933, but in many ways justified. First of all, simple design Zippo ensure that it can be broken only in very specific circumstances - in fact, the most that can happen with two connected pieces of metal eyelet, it's separated, or burst supporting bonnet, but such misfortune befall not everyone. The rest of the break in the Zippo just nothing. As for the rough handling, so it is subject to any everyday thing.
On the other hand, look at the price of $ 1.95 per lighter: it was a lot or a little in 1933, when the salary of a laborer is about $ 15-20 per week, and pay a specialist with higher education - $ 45-60 per week? Not so much (as, for example, cost the baby doll), but all the Americans who are used to the conditions of the Great Depression and unemployment to count every penny, could demand for their labor dollar reliable everyday thing that will not break or a day, or through month - and Blaisdell gave them such a thing! Any Broke Free chinilas lighter factory in Bradford and returned to the owner. It is unlikely that the same service is offered to manufacturers for broken dolls kids! :).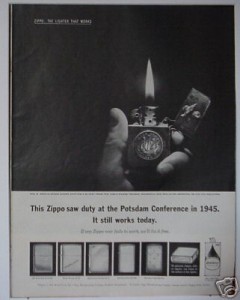 As the years passed, lighters broke, lifetime warranty remains. Zippo has won the reputation of "eternal" things, not because it was such, but because the inventor wanted to make it so. Well, that he is very well managed, and the Zippo lighter with age dignify engravings, overgrown stories, lost and found, broke and were repaired, handed down in families from father to son - a classic American story: «This lighter belonged to my dad ...» !
In 1935, with the advent of advertising posters Zippo was a tiny pocket billboard, a kind of "two-in-one" - utilitarian lighter and advertising media simultaneously. And in 1942 Zippo with American soldiers to conquer the rest of the world, and after the Second World War to prove its reliability has no one wanted - but that's the next story.
See also: