Lorena Straffi (Lorena Straffi) and John Dillon (John Dillon): Zippo as a work of art
Unlike authorized Zippo Mfg Company artists Claudio Mazza and Paul Fleming , the heroes of the review official artist Zippo not.
However, their skill, in my opinion, is not in any way inferior to the art of the legendary Claudio Mazza (Claudio Mazzi). Such a comparison is due to the fact that in contrast to Paul Fleming (Paul Fleming), whose own unusual and nothing on a similar technique, Lorena and John work in the same style as the Mazza - airbrushing. Sometimes it is almost impossible to determine whose "hand" belongs or that job, because it is done at a very high level. Moreover, Lorena Straffi and Claudio Mazza at one time even worked together for the Italian club collectors Zippo (Zippo Club Italy). But first things first.
Italian artist Lorena Straffi (Lorena Straffi) was born in Bologna in northern Italy. She grew up in a family of car enthusiasts. Her father worked for Lamborghini, brother - in a Ferrari, and Lauren also retained a love for motorsports, but in a somewhat different direction. Inspired by her passion for painting, he opened his own company in Bologna, and soon gained recognition for his dynamic style in the image mototemy along with image thumbnails from the world of fantasy.
Her ability to draw on different types of surfaces created her reputation as a professional artist. Potential of her work and skills was not long in coming. Soon, she began taking orders from large companies, known not only in Italy, but all over the world. Among the clients were Straffi companies such as Ducati Motorcycles, Ferrari, Maserati, Malaguti. This successful cooperation with renowned international brands to last for years.
In one of his appeals to collectors Zippo, Lauren once told me where to start her career and the career of the artist:
"Dear collectors!
Many believe that the skills and abilities I have gained only when I started working with Zippo lighters in 1996. However, I have honed their skills for years, long before she began working with a Zippo.
I used to print images on most bikes and helmets for motorcyclists. The only difference between painting and drawing on the cigarette lighter on a motorcycle - is that you are much closer and deeper work with the surface. I started working with the airbrush in 1988. I thought it was very interesting, and in time, gain experience in this business, I went to the market of custom engraving. Four years later, I met two artists - Ermanno Seganti (Ermanno Seganti) and Claudio Mazza (Claudio Mazzi). Like most of the artists at the time, we drew on motorcycles, helmets, honing skills and creating their own style, in which I draw to this day. Ermanno soon left our project, and we were joined by my brother as a partner. In 1996, we opened our own company "Kreo di Straffi e Mazzi SNC".
The photo with Claudio Mazza:
Thus officially opening the business, we have attracted the attention of the labels Ducati Motor, Saeco coffee machine, etc. At the same time, we have to hire other artists on his team to keep pace with time to fill orders. We also have to teach them our techniques of drawing, formed in previous years.
About during this period, we have to take orders from the Italian branch of Zippo. It all happened very well, because at that time the work on the order Saeco coffee machine coming to an end. My brother came out of our company and opened his own studio with his wife. Only the I Mazza. For us, it was a baptism by fire. We painted a large surface and lighter. Moreover, the design drawings and sketches for lighters have given us in our sole discretion, I had to quickly learn how to work in the program Adobe Photoshop.
I became more and more difficult to design and draw on themselves lighters.
Because the number of orders only grew, it became very difficult to work. At this point, we decided to hire three more artists to have time to fill orders. To start, we gave them a simple job, for example, draw silhouettes lighters. Over time, as they become more confident in their abilities and skills, we gave them orders to the more complex elements of the drawing.
All lighters are tested for compliance with quality, signed and pronumerovyvalis Claudio. In 2001, I created the Italian club Zippo collectors and fans and helped Mazza in promoting his work. This gave an excellent opportunity for all collectors to get together annually. A difficult journey, but it was worth it.
I want to stress that I am not working for Claudio Mazza! It was our joint project. We worked together. In 2005, I left the project Zippo in Italy moved to the UK. With my new team-mate John Dillanom we opened the studio Artenchant . The journey begins again. "
So now a few words about John Dillon.
English artist John Edward Dillon (John Edward Dillon) was born in 1963 in London. After serving in the Navy of Great Britain in 1984, John went to study engineering. However, his passion for motorcycles led to the fact that soon he began to paint on them. It happened after he made a little drawing on a motorcycle. His custom work began to win various prestigious awards in England and Sweden. In 2000, during a trip to Italy, John was first introduced to the work of Italian artist Lorena Straffi. On his own initiative, he was offered to work in Italy on several projects for companies and Ducati Saeco. Later, his photorealistic style and attention to detail caught the attention of collectors lighters, and John began to receive orders for drawing pictures of motorcycles on the lighter.
In the photo with Paul Fleming on one of the regular meetings of collectors (left - John Dillon, right - Paul Fleming)
John is the only artist in the UK, whose work has been bought by the Gallery of Contemporary Art in London (Tate Modern Galley):
John was also awarded the George Medal (GM), the second level civilian award in the United Kingdom and the British Commonwealth after the George Cross for taking part in the Falklands conflict with Argentina in 1982.
Joint project Lorena Straffi and John Dillon called Artenchant . This is a team of professional artists who have engraved pens, lighters, knives, and other miscellaneous items that somehow want to give an unusual exclusive look. A few words from the project Artenchant:
All our products are 100% hand work is done by highly skilled artists. To place an order and find out its final cost, you can send us a sketch of the image, indicating desirable exactly how you want to place it on the product. We accept orders for as few copies as well as unique and one-of-a-kind (one-of-a-kind) items. The cost usually depends on the complexity of the artwork, however, it will not be for you an expensive process. Our craftsmen can deliver images of any complexity, even in a limited time frame.
We always guarantee a quality drawing of the image. Each piece is coated with several layers of images are then covered with a special varnish and polish.
In all the years we have never received the return of our products. Therefore, our products come with a lifetime warranty.
A unique opportunity to see how out of the ordinary Zippo make a masterpiece (John the pictures shown on one of the German forums):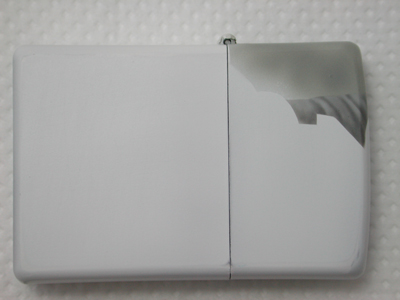 You can make an order on the official website Artenchant .

Despite the fact that John and Lauren are not officially authorized by artists Zippo Mfg Company, their work is highly sought after by collectors around the world Zippo.
Finally, I want to thank Lauren for her kind words and send them to all our readers:
«Thank you for the link, and I recognized your friend Vladimir because he is a member of Zippo Zen. Like I am. Really nice the web site you are running, good luck to you both for a great success of it ».
("Thanks for the link. I found your friend Vladimir, because he like me a member of ZEN . You have created a really great site, good luck to both of you and success in its development ")
See also: