Banner Advertising Zippo: brilliant simplicity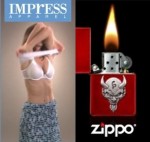 Banner online advertising - an area of ​​advertising, which makes many more shut the window or scroll the page, especially tired all animated flash banners.
Just do not rush to shut the three windows on the links below!
The American advertising agency «Brunner» established in 2008, in my opinion, three brilliant promotional flash banner of Zippo.
The idea is that the ad unit consists of two seemingly unrelated vertical banners, which are arranged one above the other - the bottom of Zippo, with the image of a lit cigarette lighter, while the upper abstract theme.
However, in reality the top banner does not endorse another product - a few seconds on the banner character starts out of the blue "respond" to the burning flame of the lighter underneath.
Further development of tiny advertising themes, see for yourself on the links (you need Flash!):
See also: