Avi R.
Baer, ​​Alexander Neumark «Zippo: An American Legend»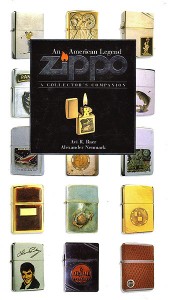 This is a very nice book of small size, somehow slightly underrated by collectors Zippo, although in my opinion - one of the best.
Essentially, it is a pocket encyclopedia of ictorii Zippo.
Pictures in it are of secondary importance, the main thing is the text - it is strange, you should not look, but just read.
The book is written for the enthusiastic collector of the same people get involved, and it tells the whole story Zippo and companies - from 1932 to the present, with all the traditional Zippo-themes: the invention, advertising, war, space, sports, collectibles, interesting facts about Zippo , periods in the history of Zippo, different models, etc.
In fact, if we take out our article about the Zippo from Wikipedia to illustrate hundreds of good pictures, and bring to a volume of a few hundred villages, and then get the book Avi Baer :) All in all, an especially unknown collectors of information in the book there, but none however there are various interesting facts and rare photos.
Especially touched by the section «Zippo online», in which two pages are web-address pair of official sites and a dozen other home pages collectors Zippo - in the spirit of the books mid-to late-1990s :)
Interesting fact: this is almost the only book about Zippo, written not American or Japanese - Avi Baer was born and lives in South Africa is working in the field of IT-consulting and network technology, as Zippo, according to him, began to get involved in his youth.
Summary: An excellent book to read to anyone who wants to know more (much more! With pictures!) History of Zippo. The fact that in principle it is possible to ponahvatat grains with Zippo-dozen sites, everything is carefully collected in this book. Recommended :)
See also: