Jim Fiorella «The Vietnam Zippo: 1933-1975»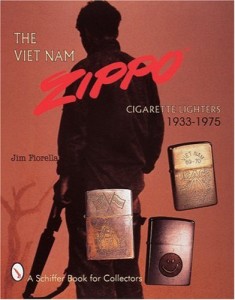 The fundamental work of the American journalist, collector and expert on Zippo Jim Fiorelli «The Vietnam Zippo: 1933-1975» - one of the most interesting books on the lighter Zippo.
The book is luxurious in itself: hard cover, dust jacket, 192 pages, hundreds of illustrations and articles covering all possible aspects of collectible Zippo the Vietnam War.
Valuable for collectors primarily the fact that for every cigarette lighters, depicted in the book (and there are hundreds!) Indicated its approximate value at which you can navigate (though we must remember that the book was published in 1998, so prices may vary from today) . Minus all of this that the majority of such lighters, as presented in the book, now you can hardly find.
In addition to the gallery of Vietnamese Zippo, the book contains a lot of information materials and articles, for example, the chronology of the Vietnam War, the list of members of the American war ships, parts lists and formations of the U.S. Army at the time, and even a section with Vietnamese translations of words common to the engraving. All this will, of course, of interest not only to collectors Zippo, but also to all those who are interested in military history at the time.
Summary: The book is gorgeous, and if you are interested in Vietnam Zippo - you will not regret the purchase, it will scroll through and view. However, for more current information on the Vietnam Zippo, I would advise to use the Site gersters.ch and pagesperso-orange.fr - at least they live and updated.
PS Sam Fiorella, incidentally, is present on Ebay , and even occasionally put up for sale in a variety of lighters. According to the written them a little overview on the topic of fake Vietnam Zippo , it slightly snob :)
PPS I take this opportunity to thank the friends of the company "Korolus" , the official distributor of Zippo Manufacturing Co. in Russia, for this wonderful gift.
See also: