Lighters Berkeley
Wednesday, November 25th, 2009
Saturday, October 10th, 2009
Berkeley - one of the most mysterious of American brands of petrol lighters.
They were issued around since the early 1940s and mid-1950s.
All data that have collectors on them - this is what is written on their inserts and a few remaining boxes.
There are known to be produced by Flashlight Company of America, which was in Jersey City, New Jersey.
A little later, the company became known Berkeley Industries.
Its history is shrouded in mystery so far - I even wrote a request to the mayor and the municipality of Jersey City with the question, whether they know anything about the fate of a company that has worked in their city.
Alas, there is no even able to help.
The search continues!
And yet - a beauty Berkeley on our screens.
Berkeley strongly structurally different from their counterparts. Her body was placed first in aluminum alloy, and a little later, in 1950, a semblance of brass, which could be covered, such as lacquer, polished to a mirror finish, or the body decorated with vertical lines. Aluminium enclosures Berkeley pretty light touch (compared to Zippo, for example), but it's still not simple cheap aluminum - it is not sognesh fingers so that the case is quite strong. But on the other hand insert was cast (not cliched!) From a rather strange chugunopodobnogo copper-lead alloy, resulting in inserts in Berkeley almost twice as heavy as the body itself and have a unique strength - even in appearance, they look like small tanks :) Well Punch gives them the lower metal plate inserts with two screws (for refueling and to keep the spring flint) - as a result of an insert closed almost hermetically, excluding the smallest fuel leaks.
Berkeley came on the market about the Second World War - then many manufacturers lighters supplied soldiers with their products. At the time, the most relevant was Colorize Black Crackle - Black paint, which covers the body and which is lighter in baking gave a unique pattern consisting of tiny winding lines. It protects against rust lighter (if they were steel, as Zippo at that time), and also reduces glare, which could potentially throw a lighter body. The earliest specimens found Berkeley - just the beginning of the 1940s, black coating and served faithfully for the soldiers of WWII.
Here is a unique instance of the time at which hand engraved the name Burkey. Perhaps the owner was sentimental person!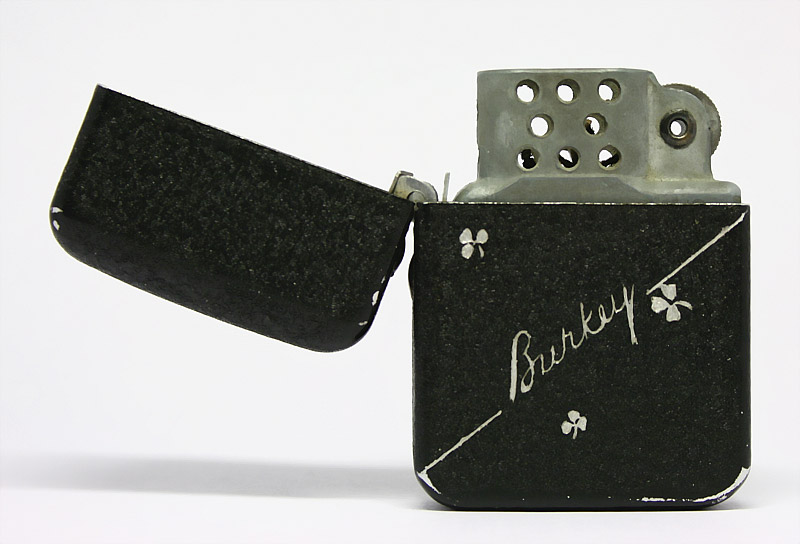 All Berkeley Identical hinges, which consists of two plates, the strength is simply no equal. Open it is some work, so it is tight. I believe that to break this design can not in principle:
Another instance of black crackle from the Second World War, almost 100% safe. In this lighter insert only known me without any inscriptions, but there is a stamp with the name of Berkeley Windproof on the bottom - also unique:
Another Berkeley, was battered and belonging, according to scribble, a certain WAHeller, who served in Navy U.S. (USN, United States Navy):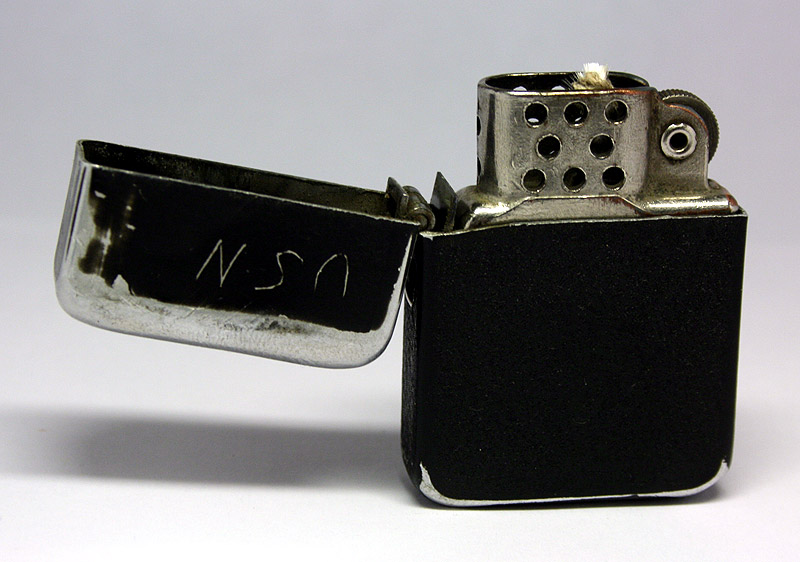 On the insert, where worn clearly visible red copper color:
After the Second World War, the company began to produce several different models of lighters, which cost 2 to $ 4, from the most simple and ending with gold patterns and trim leather. Here are a few advertising pages of the magazines late 1940s, and in later advertising lighters Berkeley have not found at all:
Here is the model 1950 Jeweltone - incredibly nice in the hand and polished to a mirror finish. Keep the native box complements the already beautiful thing:
Very rare Berkeley advertising (Ford dealer in Somerville, Tennessee) - practically still only got caught. Cap covered a bit of black paint, coupled with a gold bottom looks fantastic! It is a pity that this instance lain about 50 years old and darkened by time:
The most luxurious range of lighter Berkeley - gilded (GOLD PLATED). In 1950, cost as much as $ 4! :)
Compared with Zippo Berkeley looks small tank, it looks even more brutal in his hand is solid and heavy and creates a sense of neubivaemoy things. Berkeley in size slightly wider:
Advanced age structure gives flint wheel - all, without exception, Berkeley is an old-fashioned, straight notches:
And finally - a little mystery Berkeley, which I open for you.
Here are two pages of advertising Berkeley, where perchislyayutsya their indisputable advantages, including the mention of a certain "secret compartment" for storage of spare flints (Item No. 4):
What is characteristic of this "secret compartment" in most advertising is not shown, so I looked for it for a long time. Do not rule out that about it is told in the instructions to the cigarette lighter, but finding Berkeley with preserved not only the box. and instruction - double rarity. In general, when I accidentally discovered where designers lighters offer a spare flint, I had a pleasant surprise.
Look.
We took out the insert: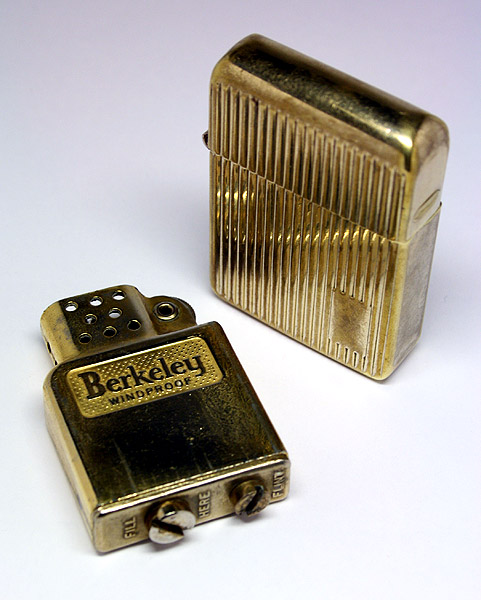 Remove the screw from the filling hole:
He is a two piece! Unscrew it - voila! Here it is, a secret compartment for a spare flint:
In other inserts Berkeley, if no screws are not lost, there is also this:
After 1950's tracks like lighters Berkeley, and the company completely lost. Berkeley now appear for sale at auction is very rare (compared with Zippo about a thousand times less). I was pleased to unearth, preserve and share the facts about the life of these worthy lighter :)