Bowers lighters
Wednesday, November 18th, 2009
Monday, November 16th, 2009
This lightweight aluminum Bowers Storm Master was a complete surprise.
It is well known that the American Embassy in virtually every country of the world have, or at least used to have their Zippo lighters , which were used as gifts at parties and just were given to guests.
I have always believed that it was only a Zippo.
I was wrong - this is lighter Bowers from the American Embassy, ​​and more entertaining - from Moscow, USSR!
It is difficult to determine the exact date of its release, but most likely, this lighter was born into the world at least the 1970s.
Made in the USA, visited the Soviet Union and returned to the U.S., and now come back to Russia :)
PS Thank you to the distinguished botas, without whom I would hum that Bowers is not got! :)
Saturday, September 26th, 2009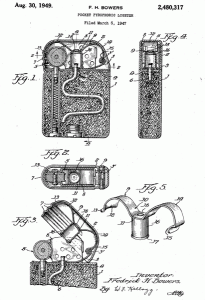 Company Bowers Tool And Die Company was founded in 1928 by Ernest Bowers (Ernest Bowers) in Kalamazoo, Michigan, and most of it was originally activity was associated with metal.
Ernest was a heavy smoker, so later the company began producing lighters branded "Kalamazoo Slide Sleeve Lighter".
Lighter was a great success!
Son of Ernest Frederick led lighters made by the company to the next level, and they were sold across the country. Several new models were on the market in 1930, enjoyed a particularly popular model "Storm Master". The company produced about 4,000 lighters a day, and then do not have time to deal with the growing demand.
In 1940 was released military model "Army-Navy", and the company Bowers provided 55% of all government procurement lighters supply U.S. soldiers at the front. Little is known about it, but in terms of sales at the time it passed, even Zippo!
Lighters that time, not particularly original, but are reliable and up to date, these instances are found for sale on Ebay in a very well preserved:
But looked so famous model "Army-Navy":
In 1950 the company Bowers Lighter Company employed more than 150 people, which produced 6 million lighters a year in great demand. Then, the market was represented well-known model pocket lighters "Bowers No. 10 ", the patent for which Frederick received in 1949.
In 1952 the company received an order for Bowers 500.000 promotional lighters. Such a large investment will greatly expand the production and the plant at the time of lighters produced 4000 hour automated line served by a single operator. Since 1954, the production of lighters has become widely used aluminum.
Here is a blurb lighters "Bowers No.10" from the magazine "Life" in 1950:
In 1962, Frederick began to do on their lighters engraving, color printing, thereby producing a very interesting promotional copies for private orders.
Frederick Bowers died September 16, 1966, leaving a little empire producing lighter, which he so lovingly grown from a small production, started by his father.
Over time, the production of lighters in the company gradually disappeared, unable to compete and give way to other destinations. In 1995, a fire destroyed the former production line for production of lighters Bowers, along with all the archives of Bowers Lighter Company.
So Lighter Bowers is history. But the company Bowers Manufacturing still exists, and, as before, is engaged in the processing of metal, like 80 years ago.
---
Bowers No.10, 1950:
Bowers in artificial skin, the end of the 1950s:
Together:
Only PS I published an article the next day came to me one more member of the family Bowers - Bowers Sure Fire. And this instance is simply the most that neither is canonical, with advertising ALCOA - American aluminum company, the very first company, bought himself in 1950 as a promotional gift lighter aluminum: