Sunday, September 20th, 2009
In 1939, Joseph Federico of Bradford, Pennsylvania, patented his invention of an elegant case for his lighter.
This lighter was named Hurricane.
Here it is:
These lighters from the late 1930s produced a small company New Method Company, located in Bradford. There were two almost identical models - Helios and Hurricane, both of which were made of Bakelite (a special type of resin, in fact it turned out somewhere between plastic and hard rubber) and Hurricane produced in two varieties of metal - from copper and with a polished chrome finish .
For comparison - Here are the bottoms of bakelite lighter Helios and Hurricane, the texture can be seen that it is essentially plastic (this picture for me kindly made Paul Fleming from New Zealand, as bakelite lighters I have not met):
In Hurricane cover lightly spring-loaded two plates, insert over zippovskim quite small - it is even smaller for the windshield (such modest size due to the fact that the walls of the shell is very thick, about twice as thick as a conventional Zippo). All in all, it looks very neat and durable, lighter in his hand felt very heavy and is very good.
On the bottom - all known Bradford, PA!
Actually, his hometown, and played in the fate of Hurricane fatal role. In 1940 just started rapid flowering of Zippo, and George Blaisdell, as though an honorable man, but a very tough businessman tolerate competitors strongly desired, especially in his own city. At the time, Zippo has not fully passed on and used the self-service contractors. In particular, the wheels for flint and other small Circuits company bought ready-made. Easy to guess that Hurricane bought the parts are the same from the same suppliers. Blaisdell one word - "stop supplying Hurricane, otherwise the company Zippo abandon contracts" - was enough to contractors made a clear choice in the direction of a more promising Zippo.
So died company New Method Company and its lighter Hurricane.
Today, former enemies and rivals - Hurricane and Zippo - met in nearly 70 years, and as if nothing had happened next are: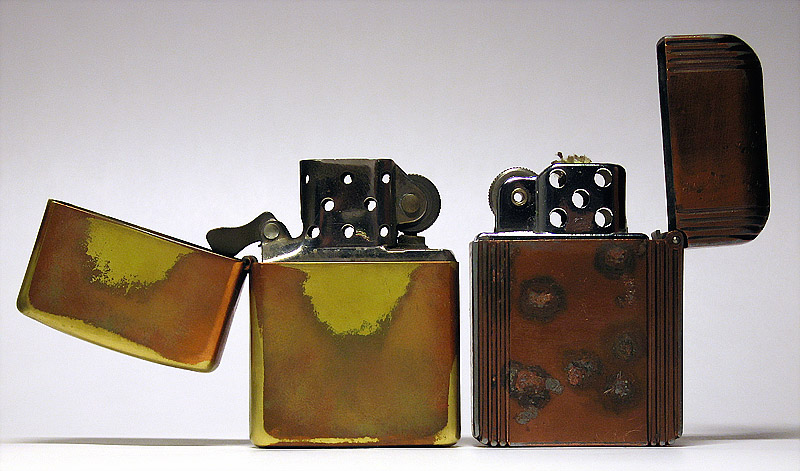 However, in reality they do not have long no enemies. It's all story :)